In Stave One of 'A Professional Services Christmas Carol' we introduce our story's chief protagonist and the Firm's Managing Partner, Scrooge. We learn about the culture of his professional services Firm and meet our story's long-suffering antagonists: The Junior Associate, The Client and the Practice Manager.
Our story begins on a cold Christmas Eve in the offices of Scrooge and Marley, a traditional professional services Firm that has been found in the heart of The City for nearly 200 years.
At his large oak desk, busily checking performance metrics sits the Firm's Managing Partner, Benjamin Scrooge, a distant relative of the Firm's founder, Ebenezer.
This afternoon, Scrooge is even more irate than usual because from high up in his office, he can see people leaving their offices early to do some last-minute Christmas shopping.
None of these people work for Scrooge. No one is leaving early from Scrooge's Firm.
"Flexi-time?!" thinks Scrooge indignantly, "Humbug!"
Scrooge has worked at the Firm for all his working life. He joined the Firm as a Graduate and worked his way up through the ranks until he finally became Managing Partner of the Firm when his long-term colleague, Marley was invited to retire.
There are three things that Scrooge values in life above anything else – utlilisation targets, ensuring his profit share and maintaining tradition – and his staff members know it!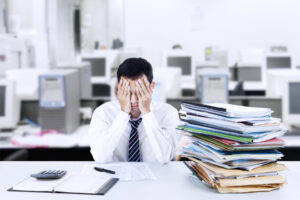 Directly opposite Scrooge's desk (on the other side of the office's glass wall) sits Rob Cratchit – a Junior Associate in the Firm. Rob has also worked at the Firm for most of his career. When he joined, he was ambitious and eager to learn. Now he's worn down, stressed, unshaven and with bags under his eyes.
Strict rules, long hours, a process driven approach and a lack of career progression have killed off most of his ambition and spirit.
Rob picks up his phone and cautiously dials Scrooge's extension…
"Please can I finish a few hours early?" pleads Rob. "I still need to get a Christmas present for Tim and I wanted to surprise my wife by getting home a few hours early."
Scrooge's sniped reply is all too predictable: "You are not leaving this office a minute early – I don't care if it's Christmas Eve – if you don't hit your billable hours target this month you can say goodbye to your bonus and any chance of a promotion in the next five years! What good is Christmas, that it should shut down business?"
Suddenly, a ruddy-faced woman bursts into the office, offering holiday greetings and an exclamatory "Merry Christmas". The woman is Winifred, CEO of one of Scrooge's most important clients.
"We're having a few Christmas drinks in our office after work and wondered if you wanted to join us Ben? I'd like to introduce you to a few of my fellow Directors and some of our top clients."
Scrooge declines the invitation. Doesn't Winifred know that he has a 150% utilisation rate to maintain?
Winifred isn't surprised. She thanks Rob Cratchit for his excellent work through the year and leaves.
Soon after a portly gentleman knocks on Scrooge's glass door to ask for a donation. The man is the Firm's Practice Manager. Along with all the non-fee earners in the Firm – Marketing, HR, IT – Scrooge sees the Practice Manager as a functionary, purely there to do his bidding.
"We really need to invest in our IT and technology Mr Scrooge, otherwise we'll start to fall even further behind other Firms. Artificial Intelligence is really starting to play a large role in our industry and we have to start seriously looking at robotics."
Scrooge replies angrily that the only 'charity' he is willing to support is the one that ensures his profit share at the end of the year! The Practice Manager leaves frustrated and empty handed.
That night, after leaving the office at a suitably late hour, Scrooge makes his way home through the fog-blanketed streets, passing the late-night revellers celebrating Christmas Eve.
When he gets home, a strange thing happens. A ghostly image appears in his door knocker – it is the face of the Firm's old Chairman, Jonathan Marley?!
Scrooge rushes inside, locks his door and sits down to eat his microwave dinner. Suddenly, a ghostly figure floats through the closed door. It is Jonathan Marley, transparent and bound in chains. Scrooge shouts in disbelief and refuses to believe it could be his old colleague. "It must be food poisoning – perhaps I didn't blitz this Chicken Korma for long enough in the microwave?"
The apparition starts to murmur, "In life I was your Firm's Chairman, Jonathan Marley."
He tells Scrooge that he has spent 7 years roaming the earth as a punishment for the way he ran the Firm in life – Marley had in fact only roamed the earth for 5 years but was basing his calculation on total hours billed.
"I am here tonight to warn you, that you have yet a chance and hope of escaping my fate."
Marley tells Scrooge that over the course of the night he will be visited by three spirits – The Ghosts of Christmas Past, Present and Future. With that, he drifts out of the window. Scrooge stumbles to his bed and falls instantly asleep.
Read Stave Two: The First of Three Spirits – The Ghost of Christmas Past